New Headteacher for Cherry Tree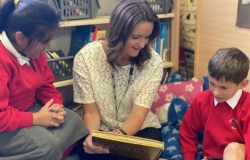 We would like to welcome to the Trust, the new Headteacher at Cherry Tree Primary School, Miss Cheska Tyler.
Miss Tyler joined us this term following the retirement of Miss Jessie Bruce, who had been at Cherry Tree for over 20 years.
'I have thoroughly enjoyed my first couple of weeks working with the staff and pupils at Cherry Tree Primary School. The team are talented, the children are eager to learn and I have every faith that we will achieve great things in the future. I have worked for the last seven years in an inner London school and prior to that, I taught in East Sussex. Each setting has offered me a new experience and I believe working with the Inclusive MAT, as the Headteacher of Cherry Tree, will be no different. I very much look forward to working with such a supportive, inclusive and collaborative trust.'
Miss Cheska Tyler, Headteacher.
Read the full article featured in the Watford Observer