National Nurture Day at Laurance Haines School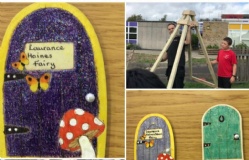 Laurance Haines School raised money for the Marion Bennathan Memorial Fund on National Nurture Day.
At Lauraunce Haines, children took part in creating posters of the Six Principles of Nurture, peer massage, and then painted pebbles with positive messages. The pebbles will be added to the new fairy garden, which was made possible thanks to Andrew Goodall, from Intu Watford, who gave up some time and built a tent frame and dug foundations for the garden. He was assisted by two ex-nurture children, and a local resident, Dawn Gerrard , kindly donated some beautiful fairy doors for the garden.
Students were asked to bring in 50p to dress up in comfortable clothes for the day. The money raised amounted to £195 and will be donated to the Marion Bennathan Memorial Fund, which will be used to support vulnerable children.