World Animal Day Celebrated at Laurance Haines School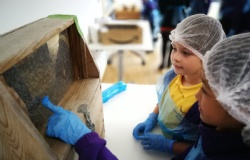 The whole school has embraced World Animal Day with various activities which celebrate animals.
Laurance Haines School, which is an Eco Schools Green Flag Award Winner, hosted a variety of activities in celebration of World Animal Day. Year 3 students, whose topic is based around Harry Potter, this term, have focused on owls and used World Animal Day as an opportunity to research the different species of owls. The school's Eco Council and School Nutrition Action Group visited Croxley Business Park to take part in a honey harvest, where they learnt about the importance of bees, and also about how honey is collected and bottled. Nursery children took the opportunity to learn about caterpillars after finding one in the playground! And Year 6 children, who are learning about World War II, focused on the important role of carrier pigeons during the war.