Yasmin Rose, EYFS Leader/Nursery Teacher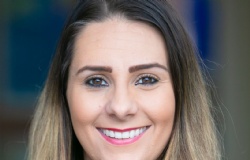 Read about Yasmin's journey at Laurance Haines School, starting a new role in the pandemic, training and leadership opportunities, and collaboration with her peers across the Trust.
After 6 wonderful years at my previous school and the birth of my second child, I decided it was time for a new challenge. I saw a job advert for an EYFS Phase Leader at Laurance Haines School and decided to take a look. I was feeling very excited as I read the job advert for this role at this school. A line that really stood out for me was 'we are a family school and the children and community are at the very heart of everything we do'!

I wasn't able to visit the school before I applied due to the pandemic, so I was a little anxious. However, I spoke to an amazing lady who is now my Assistant Head, Jo Ball, who was happy to answer all my questions and spoke very highly of the school and community. After our telephone conversation, my worries were gone, it was beginning to feel like this is the school for me. As I began the application process, I received a call from the Headteacher, Sebastian Gray. He wanted to find out about me and my background in teaching and leading in the Early Years. We spoke at length about the role and my vision as an EYFS practitioner, and it was after ending this call that I was convinced that I wanted this job. The Leadership Team really took the time to get to know me before my interview which is something I have never experienced before. I applied immediately and soon received a phone call inviting me to attend a virtual interview.

On the day of the interview, nerves had started to settle in, I was desperate to make a good impression as I knew I would develop Early Years and become a valued member of the team if I could get the job. The interview process consisted of a formal interview, a monitoring task and a presentation to discuss philosophers in education who have influenced my practice as an EYFS practitioner. I was able to show how passionate I was about the role and demonstrate how my vision has been shaped over the course of my career. Although the interview process was completely different to what I had been used to in the past, I found that the Leadership Team had devised a great set of tasks that were well-thought-out and that would showcase my understanding of Early Years.

Fortunately, I was offered the job soon after my interview. I was so delighted that I would be a part of this school community and get the opportunity to develop the Early Years provision and, of course, I accepted. As most teachers and leaders will tell you, the school that's right for you feels like home and I already felt right at home at Laurance Haines. I was in regular contact with the Headteacher throughout the recruitment process. I was able to visit the school in the coming weeks and was taken on a guided tour. Along the way I bumped into a few staff members who were so kind, caring and nurturing, and I was so excited to start my role here. I was able to come into the school a few times before I started to complete transition meetings with our families and meet my amazing Early Years team.

The time came for me to officially start my role as EYFS Leader and Nursery Class Teacher, although I was already feeling like I had been at Laurance Haines for years. I was taken through a great induction programme which involved meeting with the School Business Manager to speak about the online training that was available to me, a health and safety audit with the site manager and regular meetings with the Headteacher to discuss my professional development and target setting, as well as to check in on my well-being and what support he could offer me.

At Laurance Haines, we pride ourselves on developing everyone, and I was able to complete several training courses including becoming a Designated Safeguarding Person. The Inclusive Multi Academy Trust had also bought into the Herts For Learning Early Years support programme to help me and my team develop as practitioners and ensure we were giving our children the best start to their education by providing a rich and stimulating play-based environment. I had the pleasure of working with our Early Years Adviser, Andrew, and was able to share my vision with him and discuss what training we would need to improve our department. I took part in a deep dive with the Lead Advisers at HFL, one of my proudest moments as I could really showcase EYFS, my team and all the hard work we had put in to making our foundation stage the best it can be.

I have been given several opportunities to work with the other EYFS Leads in the Trust, Katie (Beechfield School) and Emma (Cherry Tree Primary), to discuss our visions and how we can offer each other support to ensure we are providing the best Early Years environments for future generations. We attend training courses together and are in regular contact. I feel incredibly proud to be part of such a fantastic school community and always feel fully supported in everything I do. It's like one big family where the children and community are always at the heart of everything we do!