Working in an inclusive environment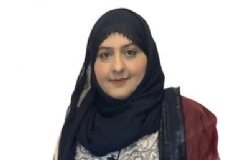 Safina Shan, SEN Teaching Assistant
Looking back twelve years ago, a very nervous me sat in the Laurance Haines reception area waiting to be called in for an interview. Laurance Haines was held a special place for my family as my husband, his siblings and my three children all attended the school. Whilst volunteering, I heard about a vacancy to join the Early Years team and thought this was the right time to apply. Having completed my first ever interview, I left with mixed feelings on whether I would get the job or not. When the call came to say I had got the job I was over the moon, my first job going from full-time mum to becoming a teaching assistant.
I joined the Early Years team in September 2010 and from there went from strength to strength in my role, going on to complete my Level 3 in Children and Young People's Workforce. During this time, I became a support staff governor and was actively involved with the school PTA. Whilst on the PTA, I organised several events and my most successful event was an Asian food stool which raised over £400. Laurance Haines has enabled me to experience a nurturing approach to education for the children I work with, whilst building strong relationships across the teaching body and with the parents.
One thing that Laurance Haines offered was an inclusive environment which would allow me to grow both as a professional and as an individual. Moving on from Early Years I became a 1-1 support assistant for children of special educational needs. This was a key learning and development phase in my career as I had to learn many new skills and adapt my teaching style to suit the children's needs. I have also learnt how to read and type in Braille, which has allowed me to teach in a completely different way and open up a whole new way of communication for myself and the child I am currently working with.
Currently, I am on the People Strategy team working alongside the Inclusive Multi Academy Trust, which has the aim to ensure all its members feel valued, listened to, are well informed and have a representation in the trust. Being of an ethnic minority, I decided to join the Equality, Diversity and Inclusion Forum as this was something I am passionate about. This allows for the voice of all staff to be heard and feel included in decisions made for the children and staff in our school which can also be demonstrated through the following phrase we use, 'you see me, you hear me, I belong'.